(English version below)

Mit diesem Spendenaufruf bitten wir euch unserer Mama im Kampf gegen den Krebs zu unterstützen.
Eine Mama ist das Wertvollste und durch nichts zu ersetzen.
Wir sind 5 Kinder und unsere Mama Silke ist 49 Jahre alt.
Sie war ein so lebensfroher Mensch, versteht es bitte nicht falsch das ist sie immer noch, aber durch den jahrelangen Kampf gegen den Krebs konnte sie ihr Leben nicht mehr so leben wie vor der Diagnose.
Sie war viel spontaner, hat sich gerne mit Freunden getroffen oder war auch gerne tanzen, die Lebensfreude und Energie hat sie durch den Krebs etwas verloren, da er ihr viel Kraft abverlangt. Ihre Arbeit vermisst sie auch sehr, seit 2 Jahren ist sie nicht mehr arbeiten und bekommt Erwerbsminderungsrente, dass auch nicht viel ist. Sie hat seit 7 Jahren einen tollen Lebenspartner an ihrer Seite, der sie in allem unterstützt und Halt gibt.
Am Tag der Diagnose brach für uns alle eine Welt zusammen, wir wollten es nicht wahrhaben. Das Leben hat sich für uns von heute auf morgen geändert. Es begann ab da ein Leben in Angst.
Im Jahr 2016 kam die Diagnose Kolonkarzinom - Dickdarmkrebs im Stadium T4. Man entfernte ihr operativ den gesamten Dickdarm. Die Ärzte sagten, dass nichts gestreut hätte, aber unsere Mama zur Sicherheit eine Chemotherapie mit 12 Zyklen machen sollte. Bis dahin war alles gut…
Im November 2018 hatte Mama sehr starke Schmerzen im Unterbauch. Nach mehreren Untersuchungen stellte sich leider heraus, dass der Tumor zurück war und im gesamten Bauchraum gestreut hatte. Der Tumor war für eine OP zu groß,meinten die Ärzte. Deshalb sollten wir auf die Chemotherapie hoffen, dass er dadurch schrumpft, ansonsten könnten Sie nichts mehr für Mama tun. Mama begann mit einer Chemotherapie nach dem FOLFIRI-Schema. Durch die starken Nebenwirkungen hatte sich bei Ihr ein Abszess bzw. eine Fistel gebildet, woraufhin die Chemotherapie sofort abgebrochen werden musste. Zur Behandlung wurden wir nach Ravensburg geschickt. Während dem Aufenthalt in der Klinik, wurde ihr gesagt, dass sie mit ihrem jetzigen Zustand nur noch Wochen oder Monate zu leben hat. Diese Aussage traf uns wie ein Stich ins Herz und uns war klar, dass wir das nicht so hinnehmen werden. Die Ärzte haben Mama zwar aufgeben wollen, aber wir Kinder nicht! Wir wussten, dass dies nicht das Ende sein kann. 
Daraufhin haben wir es selbst in die Hand genommen und mit vielen verschiedenen Kliniken telefoniert bis wir in München gelandet sind. Dieser Professor hat in unseren Augen Mama das Leben gerettet, er war der einzige der Hoffnung aussprach und Recht behielt. Bei einer 10-stündigen OP hat er alles entfernt, was mit Tumor befallen war. Im selben Monat wurde noch eine HIPEC durchgeführt. Nach Erholung wurde sie mit positiven Nachrichten entlassen. Es sei kein Tumor mehr sichtbar, trotzdem sollte eine Chemotherapie zur Sicherheit wieder einmal gemacht werden. Für Mama begann durch die Chemotherapie aber wieder alles von vorne: Haarausfall, Müdigkeit, Erschöpfung und Übelkeit. Aber trotz der vielen Tiefen auf ihrem Weg hat sie sich den Kampfgeist nicht nehmen lassen.
Im September 2019 stellt sich bei einem PET CT heraus, dass der Tumor wieder zurück ist. Mama war am Boden zerstört. Aber für Sie ist aufgeben keine Option. Von November 2019 bis Januar 2020 wurde wieder eine Chemotherapie gemacht. In dieser Zeit waren wir auch bei einem Heilpraktiker (sind wir bis heute noch) der ihr unterstützende Infusionen ( Curcumin, Vitamine usw.) gibt, um ihr Immunsystem aufrecht zu erhalten. Alleine das kostet schon viel Geld. Die Chemo hat angeschlagen. Endlich konnten wir alle mal wieder durchatmen. Bis zum Juli 2020, denn da wurde erneut festgestellt, dass der Tumor wieder da ist. 
Für Mama wurde wieder eine Chemotherapie angesetzt. Jedoch hatten selbst die Ärzte bedenken durch ihren derzeitigen Zustand. Denn das alles ging natürlich nicht spurlos an ihr vorbei, sei es körperlich und auch psychisch. Sie war einfach nicht mehr stabil. In den ganzen Jahren verlor sie knapp 25 kg, die sie bis heute nicht wieder aufbauen konnte. Ein Pflegedienst hatte ihr auch 6 Monate lang jeden Tag künstliche Nahrung bei uns Zuhause verabreicht. Im Jahr 2018 wurde ihr ein Stoma ( künstlicher Darmausgang) gelegt, dass sie leider bis heute noch begleitet. Durch die ganzen Chemos hat sie zudem noch Probleme mit den Nieren bekommen, es wurden Harnleiterschienen gelegt, die alle 3 Monate gewechselt werden müssen. Bis heute muss sie sich jeden Tag deswegen Flüssigkeit über den Port geben. Ihr Alltag ist bestimmt aus Rücken- und Magenschmerzen, Arztbesuchen, Infusionen und das Ungewisse wie es weitergeht. Das alles beeinträchtigt sie tagtäglich.
Wir haben nach langem Überlegen uns gegen die Chemo entschieden, da der Tumor resistent dagegen sei, meinten die Ärzte.  Bevor wir unsere Entscheidung getroffen haben, haben wir viel recherchiert mit Unterstützung unseres Heilpraktikers und sind auf einen Arzt für Allgemeinmedizin und Naturheilverfahren gestoßen. Bei ihm sind wir derzeit auch in Behandlung, was auch sehr kostspielig für uns ist, da wir auch dort keine Zuzahlungen der Krankenkasse bekommen. Er hat Viren die auf Mama´s Tumor abgestimmt wurden. Diese werden in Abständen direkt in die betroffenen Stellen in den Bauchraum gespritzt und sollen den Tumor zerstören. Jedoch liegt der Tumor an einigen Stellen sehr ungünstig, wo man die Viren nicht spritzen kann. Unsere letzte und einzige Chance ist jetzt noch eine regionale Chemotherapie. 
Uns war nicht bekannt, dass es so eine Möglichkeit noch gibt. Bei der Behandlung würde man ihren Bauch abtrennen sodass, die Chemolösung zu 100% auf die betroffenen Stellen kommt und angreifen kann.
Unsere Mama hat noch Chancen!
Die Regionale Chemotherapie und die anschließende Entgiftung wird von der Krankenkasse natürlich auch nicht übernommen! Hierfür benötigen wir 50.000 Euro.
Darum bitten wir euch aus tiefstem Herzen uns zu unterstützen. Uns ist bewusst, dass wir alle gerade keine leichte Zeit wegen Corona durchmachen, aber bitte helft uns das Leben unserer Mama zu retten, jeder Euro zählt. Unsere Mama ist eine echte Kämpferin, aufgeben ist keine Option für Sie, sie kämpft um ihr Leben und auch für uns, weil sie uns nicht alleine lassen will. 
Durch unsere jetzige Behandlung durch die Viren in Kombination mit der regionalen Chemotherapie kann unsere Mama geheilt werden.
Wir glauben so fest daran - aber brauchen euch!!
Helft unserer Mama Silke den Krebs zu besiegen, indem ihr für sie spendet. Wir bedanken uns bei jeden der sich die Zeit genommen hat diesen Text zu lesen und der uns helfen möchte. Wir würden uns sehr darüber freuen, wenn ihr diese Seite teilen könntet.
Vielen Dank für alles.
Wir wünschen euch viel Gesundheit und nur das Beste.
Familie Kraus
English version:With this appeal for donations we ask you to support our Mom in the fight against cancer.
A Mom is the most valuable thing and cannot be replaced by anything else.
We are 5 children and our Mom Silke is 49 years old.
She was such a cheerful person, please don't get it wrong - she still is, but due to the years of fighting cancer she could not live her life as she did before the diagnosis.
She was much more spontaneous for example liked to meet friends or go out for dancing. She lost some of her joy of life and energy because of the cancer. It demands a lot of her strength. She misses her job very much too, she hasn't worked for 2 years and receives a reduced earning capacity pension, which is not much. Since 2013 she is in a relationship with a great partner, who supports her in everything and gives her stability.
On the day of the diagnosis a world broke down for all of us, we did not want to admit it. Life changed for us from one day to the next. From then on a life of fear began.
In 2016, the diagnosis of colon cancer in stage T4 - came. The entire colon was surgically removed. The doctors said that nothing would have spread, but that our mom should undergo chemotherapy with 12 cycles for safety. Everything was fine until then...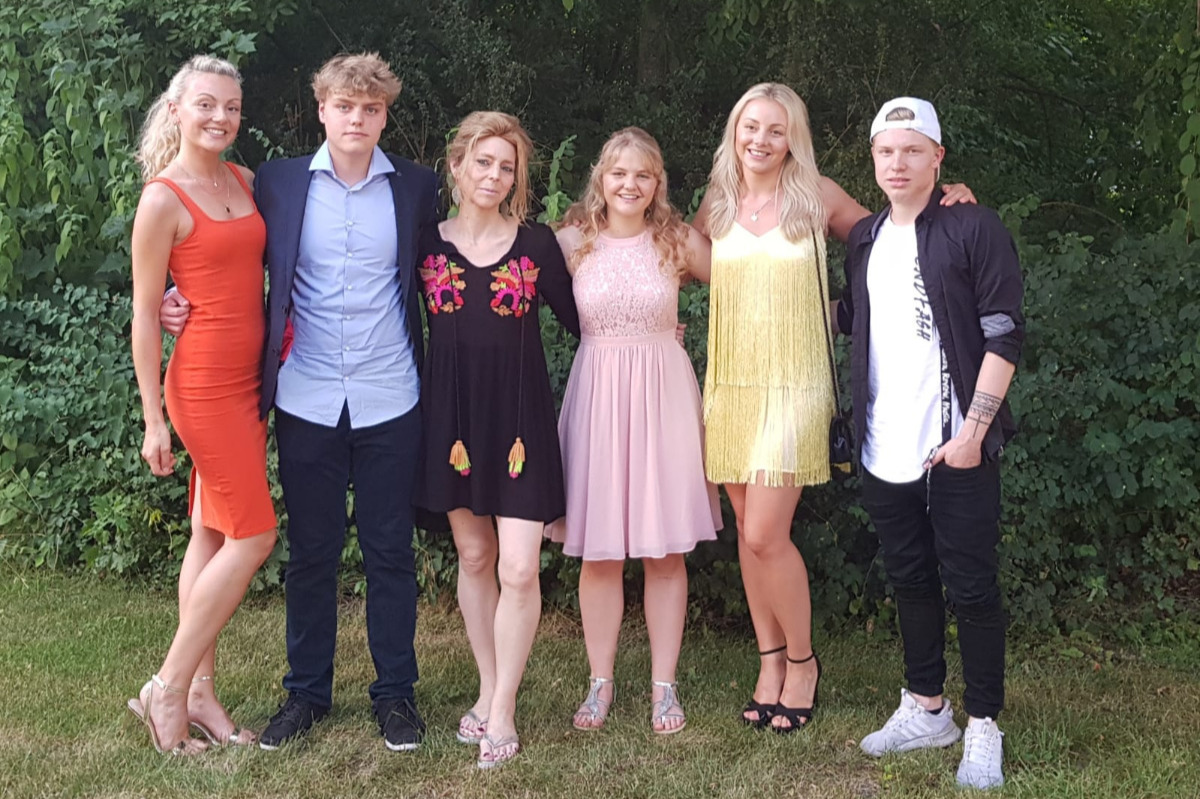 In November 2018, Mom had very severe pain in her lower abdomen. Unfortunately, after several examinations, it turned out that the tumour had returned and had spread throughout the entire abdomen. The tumour was too large for surgery the doctors said. Therefore, we hope that the chemotherapy will shrink it, otherwise there is nothing more you can do for Mom. Mom started chemotherapy according to the FOLFIRI scheme. Because of the strong side effects, she had developed an abscess or fistula, which meant that the chemotherapy had to be stopped immediately. We were sent to Ravensburg for treatment. During her stay at the clinic she was told that she only had weeks or months to live according to her current condition. This statement struck us like a stab in the heart and we knew that we would not accept this. The doctors wanted to give up Mom, but we children will never do ! We knew that this can not be the end.
So we took the fate into our own hands and talked to many different clinics until we landed in Munich. This professor saved Mom's life in our eyes, he was the only one who expressed hope and was right. During a 10-hour operation he removed everything that was affected by tumour. In the same month a HIPEC was performed. After recovery she was released with positive news. No tumour was visible any more, but nevertheless a chemotherapy should be done again for safety reasons. But for mom everything started all over again due to the chemotherapy: hair loss, tiredness, exhaustion and nausea. But despite the many depths on her way, she did not let the fighting spirit be taken away from her.
In September 2019, a PET CT shows that the tumour returned. Mom was devastated. But giving up is not an option for her. From November 2019 to January 2020, chemotherapy was administered again. During this time we also went to an alternative practitioner (we still are) who gave her supporting infusions (curcumin, vitamins etc.) to maintain her immune system. This alone costs a lot of money. The chemotherapy has worked. Finally we all could breathe again. Until July 2020, because then it was again determined that the tumour is back.
Chemotherapy was again scheduled for Mom. However, even the doctors were concerned about her current condition. Of course, all of this did not leave her without a trace, physically as well as mentally. She was simply no longer stable. In all these years she lost almost 25 kg, which she has not been able to rebuild until today. A nursing service had also given her artificial food every day at our home for 6 months. In 2018 she was given a stoma (artificial bowel outlet), which unfortunately still accompanies her to this day. Because of all the chemotherapys she also got problems with her kidneys, ureteral stomata were laid, which have to be changed every 3 months. Until today she has to give herself fluid through the port every day. Her daily routine is certainly made up of back and stomach pain, visits to the doctor, infusions and the uncertainty of what will happen next. All this affects her every day.
After much deliberation, we decided against chemotherapy because the tumour was resistant to it, the doctors said.  Before we made our decision, we did a lot of research with the support of our alternative practitioner and came across a doctor for general medicine and naturopathy. We are currently also undergoing treatment with him, which is also very expensive for us. Since as we do not receive any co-payments from the health insurance company. He has viruses that were matched to mom's tumour. These are injected at intervals directly into the affected areas in the abdomen and are intended to destroy the tumour. However, the tumour is located in some places very unfavorably, where the viruses cannot be injected. Our last and only chance now is a regional chemotherapy.
We did not know that such a possibility still exists. The treatment will involve cutting off her abdomen so that the chemotherapy solution can reach the affected areas 100% and attack them.
Our Mom still has a chance!
The regional chemotherapy and the subsequent detoxification is of course not covered by the health insurance! For this we need 50.000 Euro.
Therefore, we would like to ask you from the bottom of our hearts, to support us. We are aware that we all are not going through an easy time because of Corona, but please help us to save the life of our Mom ! Every Euro counts. Our mom is a real fighter, giving up is not an option for her, she is fighting for her life and for us, because she doesn't want to leave us alone.
With our current treatment by the viruses in combination with the regional chemotherapy our Mom can be healed.
We believe so strongly in it - but we need you!
Help our Mom Silke to defeat cancer by donating for her. We thank everyone who took the time to read this text and who wants to help us. We would be very happy if you could share this page.
Thanks for everything !
Stay safe and healthy !
Kraus Family

Fundraising team: Spendenteam (2)
Jennifer Kraus 
Organizer
Raised €3,423 from 90 donations
Illertissen, Bayern, Deutschland
Jessica Kraus 
Team member
Raised €2,000 from 33 donations
#1 fundraising platform

People have raised more money on GoFundMe than anywhere else. Learn more

GoFundMe Guarantee

In the rare case that something isn't right, we will refund your donation. Learn more

Expert advice, 24/7

Contact us with your questions and we'll answer, day or night. Learn more